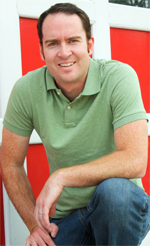 Luke Knowles is an Internet entrepreneur with a passion for "firsts." After stints as a creative director for design agencies in Colorado and Florida, Luke started Kinoli Inc., an Internet-marketing company based in Windsor, Colorado.
His knack for innovation contributed in December 2007 to the development of FreeShipping.org, the first website dedicated to free shipping offers. One year later, Luke created Free Shipping Day, a unique national shopping event for procrastinating holiday shoppers who hate fighting store crowds.
The 2011 Free Shipping Day on Friday, December 16, will band together thousands of merchants offering free shipping with delivery by Christmas Eve. In 2010, the event was the third highest-grossing online shopping day ever, with over $942 million in sales.
Seeing that people loved free shipping Luke took the FreeShipping.org concept to Canada and the United Kingdom in 2009 with FreeShipping.ca and FreeDelivery.org.
In February 2008, he set out to create a mobile app providing shoppers with in-store access to coupons for hundreds of retailers. Apple gave the Coupon Sherpa app their vote of approval by naming it a Staff Favorite just two months after launch. The iPhone app has now been downloaded over 1 million times.
CouponSherpa.com was the first in a family of money-saving superheros, collectively called The Frugals. Luke and his team later developed GiftCardGranny.com, a marketplace to buy and sell discount gift cards, and MrFreeStuff.com, the finest resource for locating freebies and free-product samples. More Frugal sites are currently in development, with ink and toner comparison site InkjetWilly.com being the latest to launch.
In March 2011, Luke launched CardAvenue.com, creating a new spin on an old idea. The first-and-only online gift card registry allows users to — in a sense — ask for gifts of money without actually asking for money. The easy-to-use registry lets consumers share with family and friends a list of gift cards they'd like to receive for favored merchants.
Given this impressive history of "firsts," it's obvious Luke is always searching for the next big idea. Whether self-conceived or in collaboration with his fellow superheroes at Kinoli Inc., this inspired entrepreneur is driven by a genuine desire to help people save money.
When Luke isn't working on his next big idea, he likes to vacation in Maui with his family at their Ma'alaea Surf vacation home.